I had taken the day off work and organised to meet up with Dave for lunch.  I didn't feel like going to Queen Victoria Market for a delicious but oily burek – I wanted something light and fresh.
I had heard about an awesome Japanese place near Melbourne Central called Don Don and texted Dave to meet me at the front of the discreet facade of the eatery.  When he arrived, I apologised for my poor choice.  He only had 30 minutes for lunch and Don Don had a line spewing out the door.
"I read a website that said not to worry about the line," he mumbled with a quick shake of his head, and within 20 seconds, we were already inside… then at the counter… then at the register with stupefied looks on our faces because we hadn't had a chance to pick something on the menu!  The line had disappeared and now WE were holding it up.
There was a menu sticky-taped to the counter so I glanced down, scanned it for the word 'beef' and ordered two of those – bento style.  She smiled, said a number that was less than 20, and I gave her the equivalent in dollars. Cheap!
Just in case you were wondering – bento is a Japanese style meal-for-one packed in a compartmentalised box.  It usually contains meat or fish with rice and some pickled or cooked vegetable, and is used as a lunchbox to take away and eat later, either at school, work or on the go.  The word originated in China and means 'convenient' and bento boxes first appeared in Japan in the late 1100s.  These days, there are a few varieties and have become an artform.
Anyway, after we ordered, we turned around and a two person table magically became available right before our eyes.  We sat down and took a moment to catch our breath.  I had a quick look around the place – white walls, red tiles in the food preparation area behind the high red counter, each workstation attended with busy cooks and kitchen hands.  Cups and takeaway containers were stacked high and if I had to guess how many could be seated inside, I'd say about 20.  It was very tight!
BAM!  FOOD! WFT?! We had only been sitting for a minute or so and it was already in front of us!  They must have everything prepared out back and once a bento order comes through, a spoonful here and spoonful there and blammo, here's your lunch, enjoy!  If that assumption is true, then they have it down to a fine art because my box was neat, tidy, garnished and looked amazing!
Chicken teriyaki and beef sukiyaki with rice, salad, a wedge of tofu and some fruit.
The beef was tender and juicy from the flavorsome sukiyaki soy sauce it was sitting in.  The chicken was succulent and glazed with a sweeter thick teriyaki sauce.  The rice was plain, moist and a fine filler and absorber of both meat sauces.  The tofu was silky and disintegrated in the mouth while the greens and fruit provided freshness that was enjoyed at the end.
Out of respect for the efficiency and speed that this place operates at, once we were done, we collected our things and vacated the table for the next two people who are about to enjoy a tasty lunch.  We found ourselves standing among the bustle of Swanston Street with 10 minutes of Dave's lunchtime to spare.  How did we go from standing in a line to standing here with full bellies so quickly?  Don Don is responsible.  The perfect, inner city lunchspot – quick, cheap and delicious.
Here are a few other bentos I found.  How cool…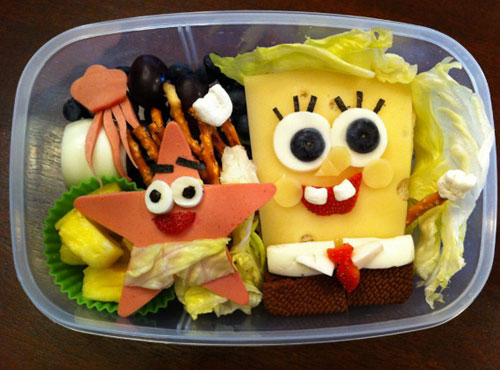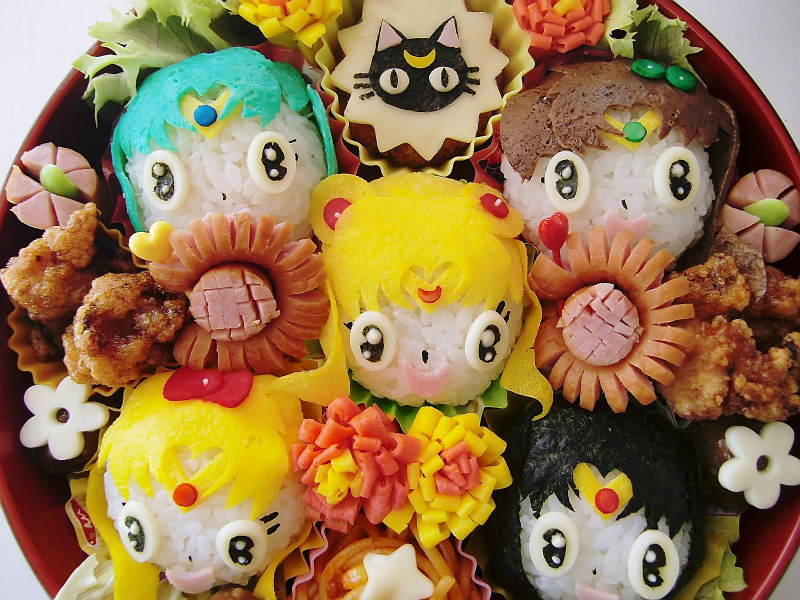 Haha awesome…